What is Girl's Day all about?
Last week, we had Nina, Jennifer and Lara as our guests - for one day, the young women got to know our company and our managing directors. This was the focus of the IHK Girl's Day: "I'm going to be a boss".
The Future Days have been held annually throughout Germany for more than 20 years to give girls and young women an understanding of the so-called MINT professions, as these are still more likely to be learned by boys these days. The abbreviation MINT refers to the fields of mathematics, IT, natural sciences and technology.
Since 2019, the approach has been taken a little further with the introduction of the "I'm going to be a boss" campaign by the Chamber of Industry and Commerce (IHK). It aims to give girls an insight into self-employment and entrepreneurship while they are still at school so that they can make a better career choice.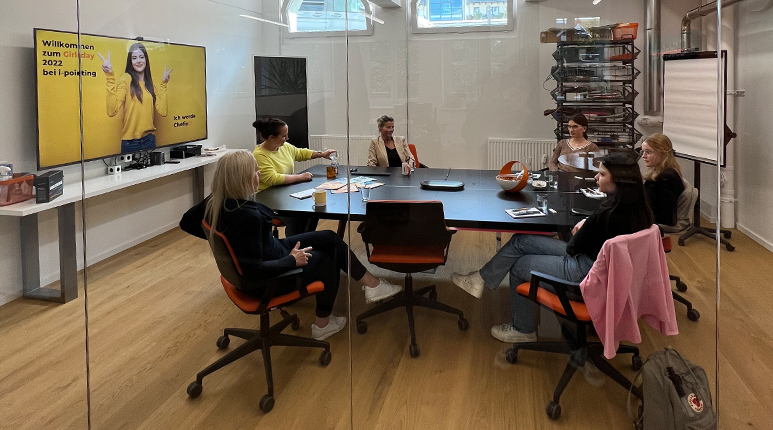 All three women have different characters and yet they are CEOs - in their own way!
Lara (15), participant of the Girl's Day at i-pointing
How did the Girl's Day at i-pointing go?
First, our managing directors Tatjana, Marion and Sylvia told the girls what we actually do as a PowerPoint agency and what our daily routine looks like. Then our bosses introduced themselves in more detail so that the girls could find out what their careers have been like so far and what tasks they take on in the company.
During the lunch break, the girls were able to chat with some of our graphic designers over delicious pizza and thus also get a few insights into their professional field.
Then Nina, Jennifer and Lara joined me (Jessi) and together we conducted an internal employee survey on the topic of women in leadership positions. First, we came up with appropriate questions. What information would the girls like to find out? What do they find exciting? After an intensive exchange and some very cool ideas, we completed the survey - the result was a questionnaire with twelve questions, which was filled out by 23 of our employees. The evaluation of the questions brought some surprising results that the girls had not expected.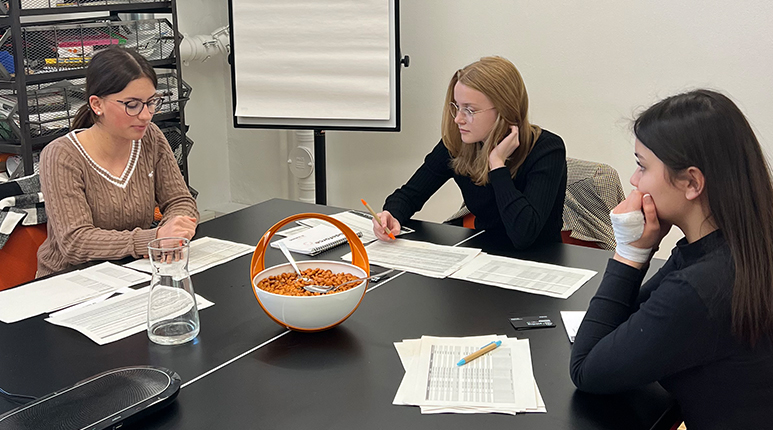 For example, eleven employees responded to the question: "If you had a choice: would you rather be led by men, by women, or a mix of both?" that they would choose a mix of women and men. Seven employees clicked "Don't know" while five chose the option "by women only".
What the girls found particularly interesting here was that no one opted for an all-male leadership.

Very pleased was also the high number of "Yes"-votes on the following question: "In Munich & Upper Bavaria, 30% of the companies are currently led or co-led by women. Do you think it is important that more women work in management positions?".
18 of the 23 respondents answered "Yes". However, there was disappointment about the four "Don't know"votes and especially about one "No"vote, which came from a man. They had not expected this and can not understand it, because it does not hurt him when something like this takes place – so the three girls.

What we can all take away from this day!
We took part in the IHK Girl's Day: "I'm going to be a boss" for the 1st time - and will gladly do it again! It was very exciting to exchange ideas with the girls about future-oriented topics such as entrepreneurship, job profiles, self-employment and role models.
Lara, Nina and Jennifer were very open-minded, interested and friendly girls with whom we could enter into a lively exchange.
The girls also enjoyed it with us, which of course we are very happy about!
Jennifer said she would definitely take the mentality with her. Lara also found the day with our female managing directors very successful: "The atmosphere in the office is great! All three women have different characters and yet they are CEOs - in their own way!"

We thank the young women for the exciting and interesting exchange and wish them all the best for their (professional) future!

Source:
Munich Chamber of Industry and Commerce: Girl's Day 2022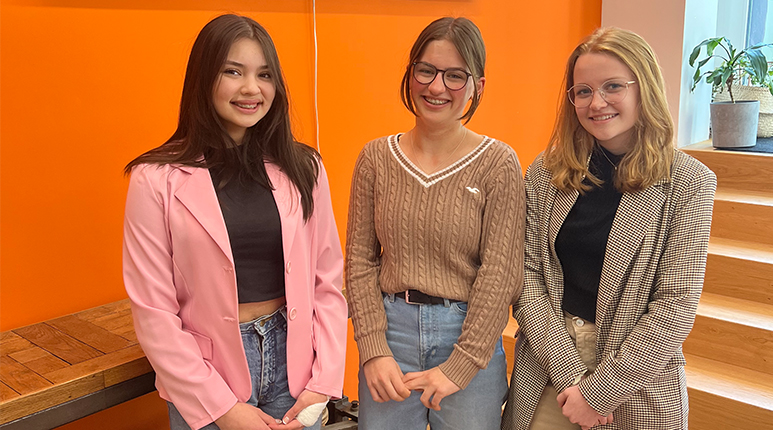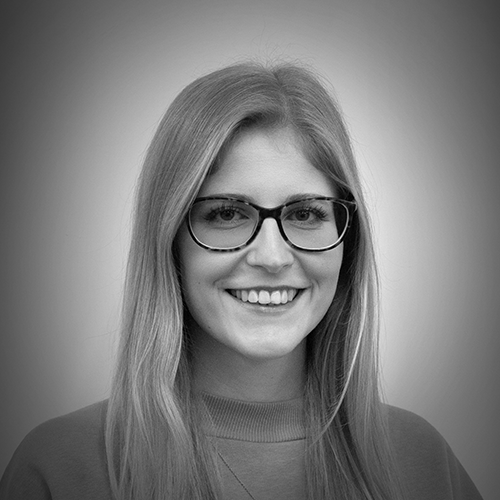 Jessica Mann
Social media