Our
creative powers
*


in your hand

* Move our presentation slider
for the ultimate slide preview:
Your goal determines our work
Tell us your goals and we'll serve the right presentation: from "push it nice and fast" to "magic wow effect". We can create any kind of presentation for you. Or do you need conceptual support? You have countless options with different effects. Our presentation slider gives you a small taste of what you get when you let us create a presentation for you. Try it out. We do exactly what you want to aim for, gladly more, never less, always entirely according to desire, time and budget – Full commitment included.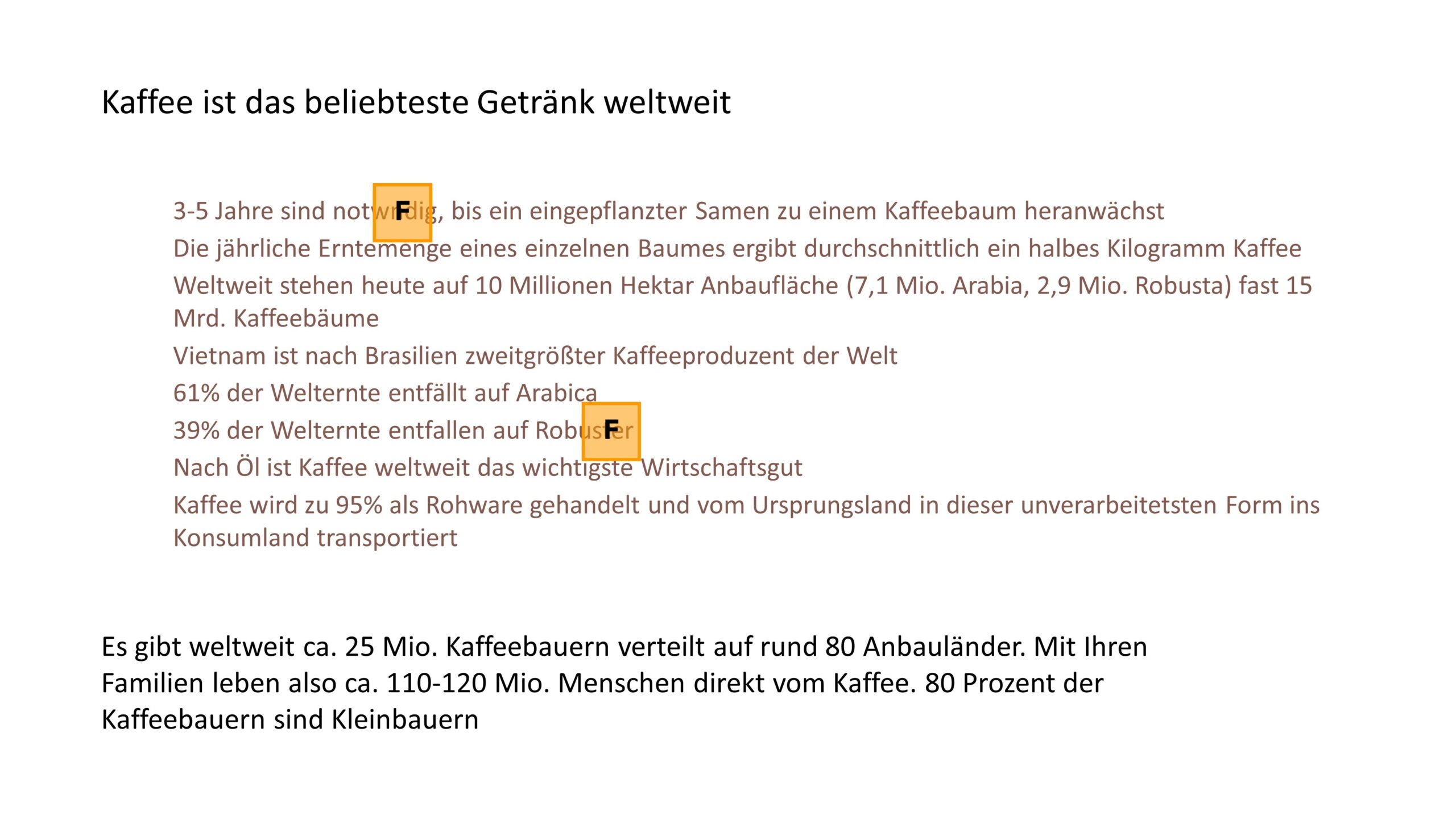 This is how it looked before.
Overloaded presentations
But there is a lot written here – What is actually important?
The clear solution
We find the core message and optimize your content clearly.
Complex content
That's obvious – why doesn't my audience understand that?
The structured solution
We design your story that informs and engages your audience!
Inconclusive content
How do you turn this into a company presentation? – Panic!
The basic solution
We recreate your entire presentation, from your input in any form.
Elaborate changes
Bring ALL presentations into the new corporate design – How should that be done?
The powerful solution
We mobilize all our forces and manage it for you: Your Slideforce in your mission – day and night.
New program
The boss wants to try something out and said something about Prezi – never heard of it!
The targeted solution
We do, because WE are your presentation agency and therefore also your Prezi agency.
Special requirements
A special presentation for sales would be helpful – One that convinces immediately!
The passionate solution
Sales, sales, sales, we love sales! And pack this energy into your presentation!
Convince professionally
The message of the presentation must come across – Let it rip!
The booster solution
SlideForce reaches for the magic potion: We conjure Magic Power into your presentation!
Urgent problem
I need a spontaneous presentation by tomorrow morning – help!
The soothing solution
We are here for you 24/7 – Shine in the morning rested.
Important contents
How do I get this across – It's so much!
The convincing solution
We sharpen your message – For a slidedeck like a laser sword!
Boring presentation
I want my presentation to really make a splash – It has to pop!
The inspiring solution
We provide that certain something – Works like Viagra for your presentation.
You have a goal – We have the right superpower
i-pointing is your Slideforce: We use all of our different competencies so that you can have a professional presentation created for you. There is a difference if you just want to explain a concept to your manager or if you need a capital increase from the investors. Whether you want to have your company presentation created or prepare a workshop, we do exactly what you need, not less, maybe sometimes a little more. You can drop and let us create a presentation for you and focus on your essential tasks focus. We do the rest. Behind all the different offers are presentation experts that do not lose sight of the big picture and you. With us you can therefore have a presentation created that fully achieves your goal and incidentally also at save labor. Time is money, as we all know, which is why it really pays to invest in this.
Conception & Storytelling
Conception of presentation design:
Presentation Consulting – Content – Storyline – Storytelling
Conception of graphic design:
Customized graphics solutions.
Design for your purpose:
Redesign of existing presentations – Complete redesign of slides based on scribbles – Usability check based on your corporate design.
Presentation design for your purpose:
Design development based on your corporate design – Techn. realization and programming – PPT template – Template Styleguides – Slide libraries – Interactive PDF forms.
Informative and attractive at the same time:
Complex statements aptly visualized – infographics – icons – scribbels – 2D illustrations – 3D graphics – visualization of statistics in diagrams (Excel, thinkcell, Wizard)
This is how movement comes in:
Animation – Complex videos (video presentations, trade fair films, image films) – Explainer video – Training videos – Clips – Banners for your web or social media presence.
For efficient work:
Excel/Word and Outlook templates – Programmed Excel tables – Word invoice templates – Revision in Word – Creation of interactive PDF forms.
Trainings at your site or online:
Technical training - Training in the use of the new design - Design training - Tips & tricks from experts - E-learning videos - Tutorials
Weekend-/
Stand-by support
Live on-site or online support:
Online/offline support – Event support (online/offline) – On-site support – PPT operator.
Expressing complicated contexts in an understandable way is our strength - graphically and with clear texts. And if it then needs to be translated into another language: We work together with an internationally active translation agency
Include all listeners and viewers in their presentations. We pay attention to real accessibility - in every sense
Technical data
Check your file
Let us check your PowerPoint file without any obligation. We will give you tips on how to work even more efficiently and save time.
For free
but not for nothing
PowerPoint service
that will surely score
with you
We have a lot of fun at what we do, and we know the seriousness of the matter when you have a presentation created by us. As a PowerPoint agency we are successful for 20 years, precisely because you are successful. We don't put that at risk through recklessness. Our roots are in management consulting, which means professional working in all respects. This also applies to the security of your valuable data. We know what is important in addition to the creation of presentations and regularly sensitize our employees. Anyone can say that? That's right! Just come and visit us unannounced, you will see how we live what we say.
Privacy
Your data is sacred to us as a presentation agency. Is it sacred to you, too? Then give us your requirements in the form of an NDA (non-disclosure agreement). Our data protection officer will check the requirements. We haven't had one in the past that we couldn't meet, and all of our clients could have their presentations created with peace of mind. Print data or data carriers from our customers are handled according to DIN 32757-1.
Clean Desk Policy
Have you never heard it before? We have, we preach it every day. Every workstation in our presentation agency is locked with a password when you leave, even for a quick look around the corner. The desk and the desktop are tidy, there are no client documents or data freely accessible on the desk. This means that you can have a presentation created with us with a clear conscience.
Communication with 4-eyes
People make mistakes. It's as simple as that. That's why we rely on the 4-eyes principle even for such self-evident things as sending an e-mail or uploading to your data server. This means that a colleague is consulted as a check parameter: security in the design, but also after having the presentation created.
FAQ about our work as an agile presentation agency
What is meant by a presentation agency?
We do not know what others understand by it, but we know what we live: Everything revolves around what you want to communicate. For this we have developed our tools. We work with PowerPoint, sometimes also with Prezi or Keynote, and quite a lot supporting with numerous Adobe CC programs. Whether presentation consulting or presentation implementation, we rely on our Magic Power for PowerPoint, which we will demonstrate if you let us create a presentation.
What do presentation agencies do?
Roughly speaking, everything around your presentation or everything that full-service agencies don't touch with pointed fingers. Why? Because we can do it better. There's no command, no sub-menu, no trick we don't know. Don't you think? Test us and let us create a presentation for you.
What makes a successful presentation agency?
I have read the passion for the tool and the special requirements for a presentation. The understanding for the Speaker, the technical know-how, the understanding of content for your presentations for your business, your marketing, your sales. When you have a presentation created by us, you will benefit from all of this. Moreover, you will make your audience convince and impress you can, if you have a professional presentation created, as these are excellent quality and a great look radiate. It's best to simply convince yourself!
What are the tasks of a presentation agency?
To let you shine as a speaker. Winning your battles, your Ideas to be adequately highlighted. And then a little bit creative design, implementation, recreation, conception, master creation, template design, presentation training, graphical visualization of figures, texts and statistics and and and - there is no end to it and we love it! That's why you shouldn't miss the opportunity to have us create a presentation for you!
What services does a presentation agency offer?
We have mastered the tools PowerPoint, Prezi or Keynote on a high technical level. This makes up about 50 % of our work. The rest is made up of consulting, conception, development of creative alternatives, plausible arrangements, getting to the heart of complex content and finding the hidden agenda with you - in short, having the presentation created is not the goal, that's just the end product: Supporting your project is the real essence.
What should a good presentation agency cost?
Do a return-of-investment calculation. How many hours do you spend working on PowerPoint yourself instead of having presentations created? And then get a cost estimate from us, not off the shelf, but exactly for your needs. Sometimes it's just glossing over, sometimes it's more - we design your presentation the way you want it.
Why should I choose i-pointing as my presentation agency?
Because we have 20 years of experience as a presentation agency? No, because as a PowerPoint agency we still see ourselves as the leading agency in 20 years. The passion for your business presentation, sales, marketing and keynote presentations is ours and you will feel the same when you work with us and have us create a presentation for you.
What are the advantages of working with i-pointing?
In short: time and nerves. Don't let yourself and your appearance, your presentations be limited because of your tool knowledge, e.g. in PowerPoint. We can do it better and more efficiently, then you can do your essential tasks more effectively.
What distinguishes i-pointing from other presentation agencies?
We are customer understanders, presentation designers, graphic designers, media designers, beautifiers, magicians, team players, designers, number crunchers, video players all in one ... because: Presentations in and with PowerPoint are more than just colorful pictures. We work for speakers with ambition and support the right strategies. If you let us create a presentation, you will quickly realize that we know what we are talking about. We are passionate about our work and want to show what we can do with the presentations that companies have us create.
We are ready for your questions – One call
and you are smarter
We know the situation. You have never worked with an agency or a PowerPoint specialist or ever had one create a presentation for you? You think that's totally complicated; "they'll want to hold hours of meetings and briefings first"? Sure, you can't do it without those meetings, but we can reassure you. We consider ourselves as a presentation agency and service provider. We are a bit like the PowerPoint program. Clear, structured, accessible to everyone and no attitude. We welcome everyone with their thoughts on having presentations created, because we see ourselves as implementers or advisors of your ideas. Whatever is necessary and what you need at that moment. We respond to your requests for making presentations as quickly as possible. And asking is free.
As a PowerPoint service, we show presence – even from a distance!