Advantages of PowerPoint
PowerPoint presentations are omnipresent at many stages of life - be it at school, in training or studies and later in everyday work. In some industries, it is hard to imagine life without PowerPoint presentations. Presentations are a good way to emphasize a lot of information graphically and textuallywhich is why PowerPoint is such a popular tool. In the following, we at i-pointing will name the advantages of PowerPoint presentations to help you decide for or against a (professional) PowerPoint presentation. What are the biggest Advantages of PowerPoint and are there perhaps also weak points? We clarify!
Take advantage of PowerPoint – We show how!
Do you need to create a presentation and are still thinking about the best way to do it? PowerPoint has many advantages, so you'll have the right tool at hand to make convincing, exciting and interesting presentations.

A big advantage of PowerPoint is of course the digital end product. In times of digitalization, posters, flipcharts, etc. often reach their limits, even if they are also a good choice in certain cases. But one thing is clear: a digital product such as a PowerPoint presentation can be saved in a cloud in such a way that you can can access it from anywhere (also gives security, if the USB stick is lost/forgotten) or can also spread. In addition, one has as a creator:in the enormous Advantage of constant editability! With print products/handwritten posters etc. no real post-processing is possible afterwards – with a PowerPoint presentation facts or figures can be updated within a few seconds.

If you are giving a presentation, you should definitely use PowerPoint as a support. Because another great advantage of PowerPoint is that the presentation is easy for you and your audience to understand. gives a common thread. Through judiciously chosen graphics and useful bullet points, it forms a visual support and guides all participants through the presentation – this is also the purpose and main advantage of PowerPoint.
Eliminate these confounding factors to make your PowerPoint look right
When we talk about the advantages and disadvantages of PowerPoint, there are also potential risks to mention. These exist with regard to the role of a PowerPoint presentation in a lecture or also with regard to the target group. But there are also ways to eliminate the potential disadvantages and risks.

One danger about PowerPoint is that you forget that you are the focus of your presentation - and not, for example, the PowerPoint presentation. As already mentioned, PowerPoint is supposed to provide support and graphical background and not be the main attraction. If too much happens on the slides that you don't talk about, the audience's attention will stick only to the presentation – and not to you and your words!

A further "risk" consists in the spatial environment and the target group. People often tend to completely darken a room when giving a PowerPoint presentation. After all, this way you can see the text and graphics even better. But be careful: If the lecture and presentation are not designed in an exciting way and if the room is too dark, it could happen that the presentation can no longer be followed, depending on the target group.

What is actually an enormous advantage of PowerPoint can quickly become a hurdle. We are talking about technology. It offers many great possibilities. But it especially likes to do what it wants ("technology that inspires"). This makes it all the more important to find out in advance about the technical conditions on site and, at best, to plan a buffer before the presentation in which you deal with the technology or become familiar with it. Checking the technical requirements also has the positive effect of giving you confidence and contributing to the success of the presentation using PowerPoint.

In addition, the Handling of the PowerPoint program is a problem for many people. Incorrect operation of the program quickly leads to your audience being distracted by incorrectly used elements such as special effects or not recognizing a common thread. A certain knowledge of PowerPoint is therefore important in order to be able to use the advantages of PowerPoint.
Therefore, if you are unsure, it would be worth considering consulting a professional. In addition, we recommend a PowerPoint Trainingso that you know exactly how you can use the program on your own in the future so that you can take full advantage of all the benefits of PowerPoint. For this, please take a look at our Portfolio or in our References.
See the advantages of PowerPoint: Let i-pointing create PowerPoint
Are you convinced of the numerous advantages that PowerPoint offers? Would you like to fully exploit the potential of PowerPoint and create presentations that will literally blow your audience away?

At i-pointing, we offer helpful services around presentations so that you can take full advantage of PowerPoint. From Slide Design, i.e. the design of the slides, via Master CreationFrom PowerPoint training, so that you always have the right master slides ready for your business, to PowerPoint training, in which you learn how to create convincing PowerPoint presentations yourself, our Offer a wide range of services around PowerPoint.
 
Do you still have questions about our services or would you like to know more about i-pointing experience? Simply get in touch with us now. We look forward to hearing from you and will be happy to provide you with advice and assistance when it comes to creating a PowerPoint presentation.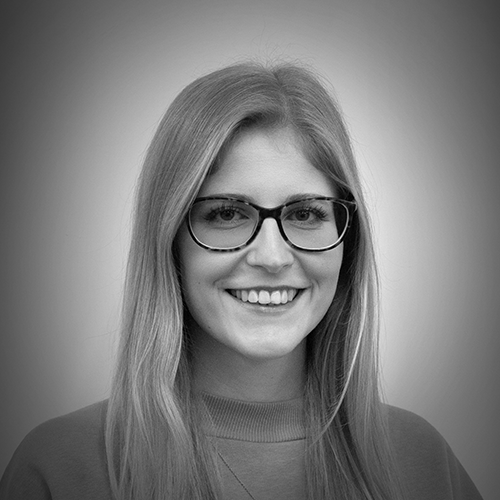 Jessica Mann
Social media