Women should be more demanding and confident - and not take anything for granted.
Tatjana Kröger | COO at i-pointing
The creation of our PowerPoint agency
As part of International Women's Day, which has taken place every year on March 8 for the past 111 years, I spoke with our CEOs Marion (CEO), Tatjana (COO), and Sylvia (CCO) about the origins of our company and the challenges we may face as a women-owned business.

How did i-pointing come about?

Marion: "I worked in management consulting at Siemens and worked in the graphics pool. Then I was allowed to do communications projects for a year, which was extremely fun. However, Siemens wanted to position itself more precisely and work more in general management again. For me, that would have meant going back to the graphics pool. But I didn't want that."

From this situation, you decided to go into business for yourself and build your own company?

Marion: "I negotiated with my boss that I would start my own business in presentation design and communication events. No sooner said than done - that was in 2001. My boss at the time was very supportive and I even had a return contract, which I found very exciting! A return contract means: no matter what I do, I can let off steam for a year. Somehow I'll be fine and if things don't go well, I can start working there again. Of course, I thought that was great!
However, the whole thing went so well that after 3 months I called a colleague from the graphics pool and said, "Please come, the fax is taking, I need help!" and she came - a week later she was there."

So how did your leadership team of 3 women come to be?

MarionFor the first 10 years, I worked exclusively with freelancers because I was afraid of the risk of hiring permanent employees. However, over a glass of wine with my husband, we realized that permanent employees would make sense. That's when we started our search."

Sylvia: "I previously worked for a management consultancy, however after 4 years the air was out of there and I was open to a new world of work. A friend got me to sign up on Xing (OpenBC at the time) and mark there that I was looking for a new job."

Marion: "Exactly, and that's where my husband contacted you."

Sylvia: "But I had my first conversation with Marion. It wasn't such an easy decision for me at the time, because the company only had six permanent employees at that time. So she had to do a lot of convincing! At first, PowerPoint was particularly difficult for me - but after just under a year, it finally "clicked"."

Tatjana: "After graduating from high school, I did an apprenticeship as an office worker and then worked for 4 years in a cab dispatching department. Then came the call from Marion that she would like to hire me as an employee. So in January 2010, I started at i-pointing."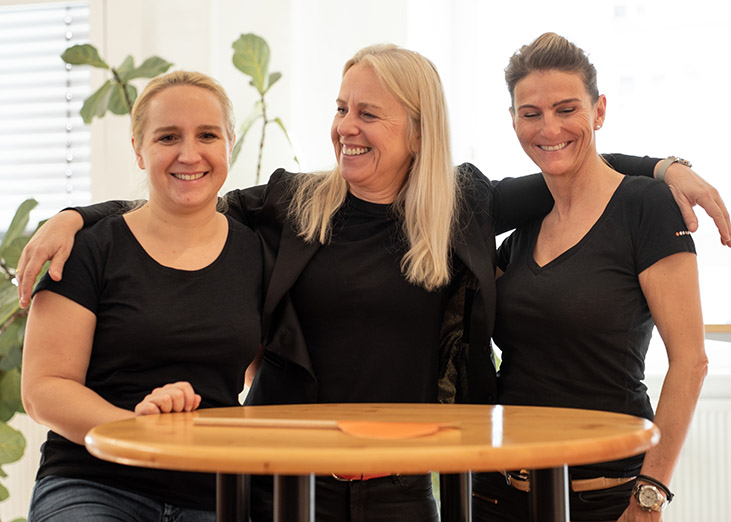 Our managing directors Tatjana, Marion and Sylvia (from left to right)
What experiences do you gain as a female executive?
And how did it turn out that Sylvia and Tatjana took their current leadership positions?

Marion: "At first, there was a second managing director in addition to me. Then I managed everything on my own again for a while before I brought Sylvia in as Managing Director in 2015 to test out how it works.
That was a very good decision for i-pointing until today.
Since that worked out so well, I added Tatjana to the management team in 2016/2017. The constellation has proven to be excellent."

Okay then, you haven't had any negative experiences as female leaders so far?

Marion: "I have a recent example. Once again, a male CEO, whose company is on a par with ours, wanted to explain the world to me. The guy was mansplaining like that - I really didn't know what to say anymore. I encounter that again and again - still do. But apart from that, I have always been taken seriously - both by customers and employees. I've never felt any disadvantages."

Tatjana: "But haven't you ever had that in purchasing negotiations or something, that you didn't feel like you were being taken seriously there?"

Marion: "Oh yes, that's right, my first purchasing negotiation with Siemens Unternehmensberatung. There were already three or four of us, a small company, and then we had negotiations directly with the head of the back office. Those were really tough negotiations with him and at some point – now you have to say that he knows my husband because he was a partner there himself – at some point he said to me: "You, if you don't understand this, then just ask your husband. He'll be happy to explain it to you." Then I laughed uproariously. That's pretty intense, but you can laugh it off.

Tatjana: "Of course, but it just takes place anyway."

Marion: "Yes, but I really have to say to that, I didn't experience it very often. That's why I remember it so much, and that was 20 years ago now."
Women have a quirk that they never ask for more money. Seriously, they never ask for it - they are given more money or a promotion. Very few bang on the table and say, "I've done this and that, and now I want more money.
Marion Koppitz | CEO at i-pointing
Were there any unusual reactions from other people when you told them about your job or your company?

Marion: "In the past, the comments went in the direction of admiration that we are three women in management, but there were also sentences like "Does that work?" - but that is no longer the case today. Our business content, the presentation design, elicits considerably more reactions. "You can run an agency and earn money with that?" - such questions came more often."

Then you can perhaps say that over the years there have already been improvements in this respect. Nevertheless, there are such situations in everyday life again and again and we women often smile it away, as you Marion just described it.
What could be done to encourage (young) women to follow their professional and private path in a self-determined way?

Marion: "Women have a quirk that they never ask for more money. Seriously, they never ask for it - you give them more money or a promotion. Very few of them pound the table and say, "I've done this and this, and now I want more money.""

Tatjana: "Women should be more demanding and confident - and not take anything for granted."

IN THIS SENSE: HAPPY WOMEN'S DAY!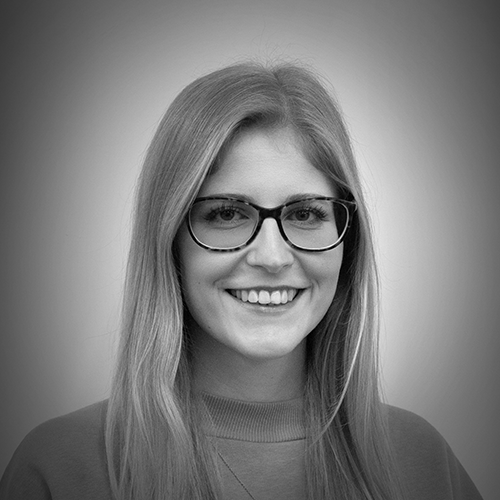 Jessica Mann
Social media